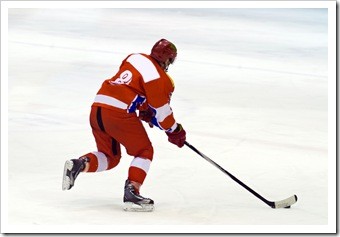 When National Hockey League (NHL) superstar Sidney Crosby suffered two concussions within days of one another, he looked for help from his chiropractor, Dr. Ted Carrick, a Chiropractic Neurologist who treats Crosby and many other players in the NHL and NFL. Carrick says, "In professional hockey alone, there are more than 50,000 hits annually, and far too many of these are serious injuries to the head." Hockey is a rough contact sport, as anyone who has been to a game can attest. As Rodney Dangerfield once famously quipped, "I went to a fight the other night and a hockey game broke out."
The risk of concussion during a hockey game is extremely high, with pucks traveling at speeds of up to 100 mph. Also, include the injuries from players colliding with each other, or being hit by hockey sticks and skate blades and you can easily see why hockey is a sport prone to injury. Unfortunately, the numbers of neck and back injuries have increased, possibly due to the false sense of security provided by the large amount of protective equipment used. The knee is one of the familiar place to pick up an injury, with sprains to the ligaments being extremely common.
Professional Hockey Teams Gain From Chiropractic Care
After nearly 10 months of suffering dizziness, fogginess, instability and light sensitivity, Crosby started his specialized chiropractic care that helped to improve both his physical and cognitive functioning. After about 6 months of this treatment, Crosby returned to the ice and assisted his Pittsburgh Penguins score a win against the New York Rangers, and the Penguins subsequently signed him to new a 12-year contract.
Chiropractic care is so vital to the Vancouver Canucks that they have a team chiropractor on staff. Dr. Sid Sheard has treated the Canucks for 24 years and says, "In managing musculoskeletal problems, the team chiropractor must determine when to order the relevant diagnostic tests and imaging studies in order to give the appropriate diagnosis." Chiropractic care is not only for the treatment of injuries, it also allows the players to stay in top form. Sheard notes, "The number of games lost to injury this year is running at less than half, which we like to think is due to the preventive and supportive training that starts in the off-season."
Olympic silver medalist in hockey and player for the Dallas Stars, Mike Modano is a strong advocate of the benefits and rewards of chiropractic care for hockey players. He quotes, "Chiropractic helps with recovery time and the way my body responds with the grind it takes."
Chiropractic care is one of the best ways that professional hockey players can maintain a large amount of time on the ice.


For Your Health,

Dr. Robert Ringston